161 Greenbank Road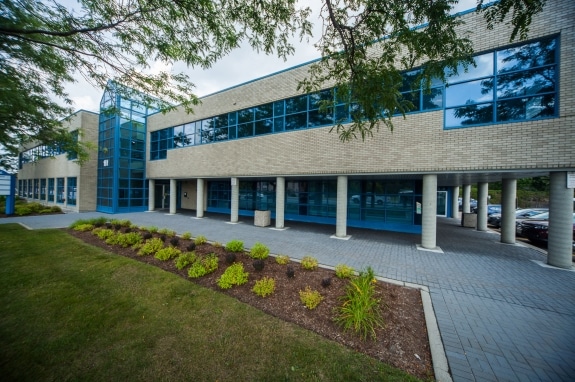 Overview
This highly visible, Class A Building occupies a coveted corner at Greenbank Road and Craig Henry Drive and boasts a range of architectural features that make it a jewel in its class. Features such as double glazed, solar blue tinted glass, barrier free access design, atrium concourse, full sprinklers, lush landscaping and proximity to major West End shopping centres give this location its appeal.
Address: 161 Greenbank Rd, Ottawa, ON K2H 5V6, Canada
Category: Office Suburban
Available Suites
No suites available for this property.
Specifications
Physical Properties
Total rentable area: 28,525
Number of floors: 2 floors
Building Renovations: Lobby and corridor renovations 2008. Energy savings lighting retrofit 2007. Water conservation retrofit, 2007.
Washrooms: Men's and Women's washroom on each floor, barrier-free on ground floor
Elevators/Passenger: Passenger elevator
Freight elevator: One of the elevators is oversized in height to double as a freight elevator when required.
Barrier Free Access: Fully accessible
Amenities: Specialty Architectural features, such as an atrium concourse. Close proximity to Healthclubs, Shopping Centers and the Queensway, On-site storage lockers are available for rent to tenants.
Parking
On site garage: Indoor tenant parking garage for 88 cars
Surface parking: for 36 cars, tenant and visitor
Mechanical, Electrical, etc
Heating: Heated electronically with baseboard units, individually controlled thermostats
HVAC: Roof top HVAC units for cooling.  Building automation system designed to optimize fresh air. Automated temperature controls for energy efficiency and fan assisted VAV system for cooling
HVAC operating hours: 08H00 to 18H00 (operating hours can be extended to meet tenant's requirements at an additional charge)
Light fixtures: T8 – ceiling mounted low voltage fixtures, complete lighting retrofit in 2007 for energy efficiency
Emergency power: Battery back-up emergency lighting for fire and life safety systems
Fibre optics: Available to the building
Life Safety/Security
Monitoring: Off-Site monitoring station for fire, and elevator 24/7
Fire detection: Heat and smoke detection devices to meet code requirements for the Building. 1 fire hose cabinet per floor.  Portable fire extinguishers and pull stations on all floors.
Sprinklers:  complete building fully sprinkleled
Video surveillance:
Janitorial
Daily cleaning: Daily, full service cleaning for all tenancies.
General
Business Hours: Monday – Friday from 08H00 to 18H00
Environment
Recycling: paper, plastics, glass, cans, cardboard and newsprint.
Building greening: To reduce the carbon footprint of the Building, has had a full lighting replacement for energy savings in 2007 and a water conservation retrofit in 2007.
Property Management
Itinerant Building Manager and Day Porter.
A computerized Tenant Maintenance Request System provides immediate response and close follow up of all tenant maintenance requests and other enquiries.
Typical Floor Plan
Brochures
Map
161 Greenbank Rd, Ottawa, ON K2H 5V6, Canada