The MacDonald Building (123 Slater Street)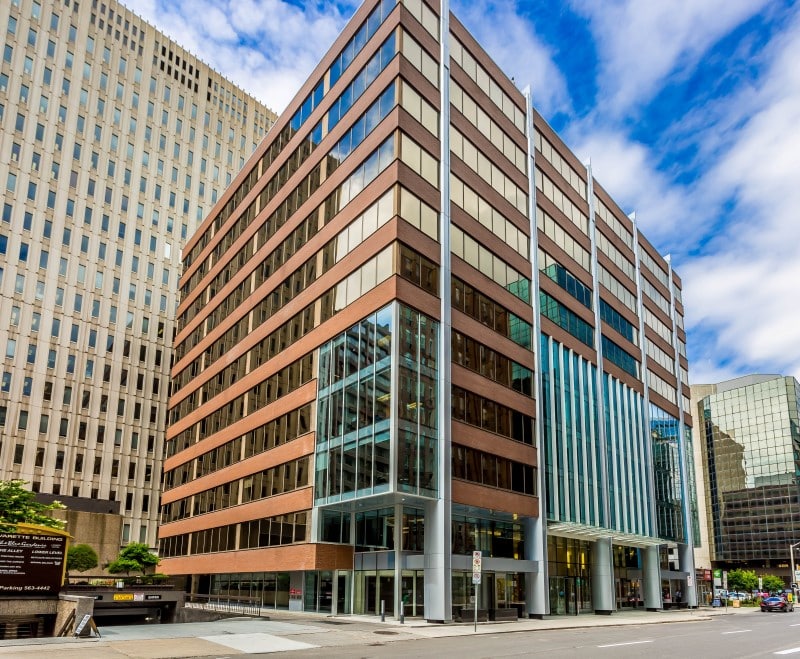 Overview
The MacDonald Building has undergone an extensive architectural transformation. The complex boasts a fresh new entrance facade, a two storey lobby, fully remodelled washrooms, common corridors, and new computer dispatched elevators.
This modernization work complements the MacDonald Building's already upgraded mechanical and electrical systems, including energy efficient lighting, upgraded electrical distribution on tenant floors, and modern energy- saving chillers and boilers. The Building automation system ensures year-round comfort with digitally controlled VAV boxes. 
Address: 123 Slater Street, Ottawa, ON K1P 5H3, Canada
Category: Office Downtown
Available Suites
Filter Results
Suite 801, 123 Slater Street
2,680 sq. ft.
Available: immediately
Floor Plan
Suite 1100, 123 Slater Street
10,556 sq. ft.
Available: immediately
Floor Plan
Specifications
Physical Properties
| | |
| --- | --- |
| Floor in Building | 11 |
| Total Rentable Area of Building | 112273 square feet |
| Typical Floor Size | 10546 square feet |
| Ceiling Planning Grid | 5'X5′ |
| Column Spacing | 25'x25′ Bays |
| Washrooms | Men's and Women's washroom on each floor, one barrier free on every level. |
| Elevators | Three elevators serving all eleven floors, modernized with a microprocessor based system that ensures elevators will be dispatched to passenger calls with peak efficiency.  The elevator system has the ability to learn tenant traffic patterns and adapt to better serve tenants. The elevators also employ a "green" regenerative drive system that capture the energy of tenants traveling in the down direction and regenerate this energy as electricity usable by other systems in the building, such as air conditioning. All elevators have the ability to double as freight elevator when required, and two of the elevators serve the parking garage levels. |
| | |
| Barrier Free Access | Fully Barrier Free Accesible |
Parking
On site garage: Underground parking for up to 155 cars, on 4 levels.
Mechanical, Electrical, etc
| | |
| --- | --- |
| Electrical | Electrical Distribution / floor – 200 amps120/240v single phase 3 wire |
| | The power distribution system is capable of supplying approximately 3.77 Watts per square foot or 40.65 Watts per square meter (at 80% load and exclusive of power required for lighting) |
| | The power grid located in the ceiling space consists of a junction box with three (3) unique 120 Volt circuits in the center of every 48 square meters (517 square feet) of useable area. |
| | Light fixtures: T8 ceiling mounted low wattage fixtures; complete lighting retrofit has been performed for energy efficiency |
| Mechanical |  Computer controlled building ventilation system designed to meet Ashrae fresh air requirements. |
| | Fibre Optics Available in the Building |
| | 150kw – 300 Ton Trane Chiller installed in 2007 |
| | Variable speed drives are employed in major HVAC equipment |
| | Two Cleaver Brook 2,400,000 BTU/Hours 2 gas fired boilers provide heat to perimeter induction units and interior space. |
Life Safety/Security
Fresh Air – C02 based demand ventilation control
Building Automation System – Controlling HVAC Systems
To reduce the carbon footprint of the building and to provide a healthier work environment for tenants, the Building will have "green" cleaning for all tenancies.
A full lighting replacement for energy efficiency has been completed, and a water conservation retrofit has been completed.
BOMA Best Certification
Building is fully sprinklered
Heat and Smoke detection devices to meet code requirements. 2 fire hose cabinets per floor. Portable fire extinguishers and pull stations on every floor.
Emergency Power – Diesel generator for fire and life with suitable capacity to maintain required power to all emergency and life safety systems (2000)
Off-Site monitoring station for fire, and elevators 24/7
General
Lobby, washroom and elevator modernization in 2014.
Property Management
On-site Day Engineer and On-site Building Manager
Metcalfe Realty's property management office is located in the Varette Building at 130 Albert Street, which is in the same city block at 123 Slater Street.  This close proximity of the property management office provides the tenants with convenient first class property management and tenant care.  A computerized Tenant Maintenance Request System provides for early response and close follow up of all tenant maintenance requests and other enquiries.
Brochures
Map
123 Slater Street, Ottawa, ON K1P 5H3, Canada